eDesigner version 11 with new features and enhancements and one-of-a-kind objective drawing tools has been released.
Version 11.0 (January 23, 2019)
"Welcome Page" with quick access to Recent files, New, Open, Robotuft Plug-in, QR-Code, Design Browser and Autosaved files.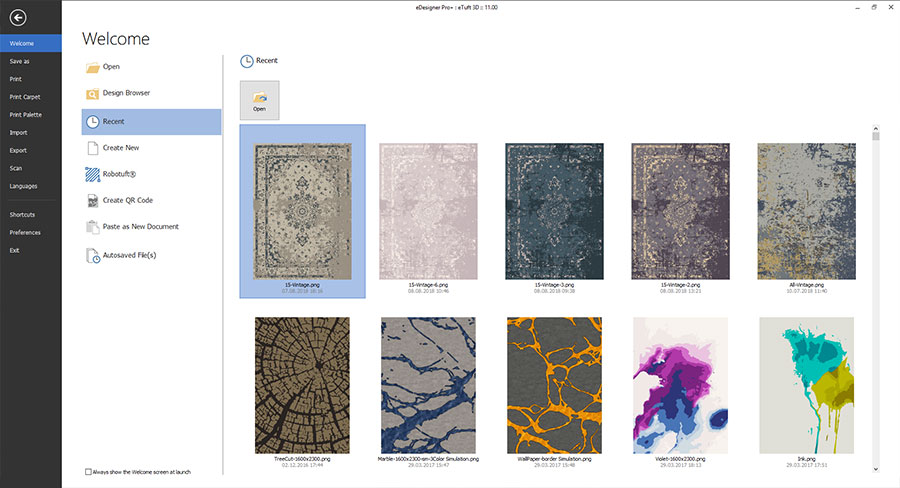 Welcome page on eDesigner version 11
Enhancement on GUI (Graphical User Interface) for easier working including: Design forms, Docking Bars and Tool Properties
Recent Items in "New" dialog
New "QR Code" function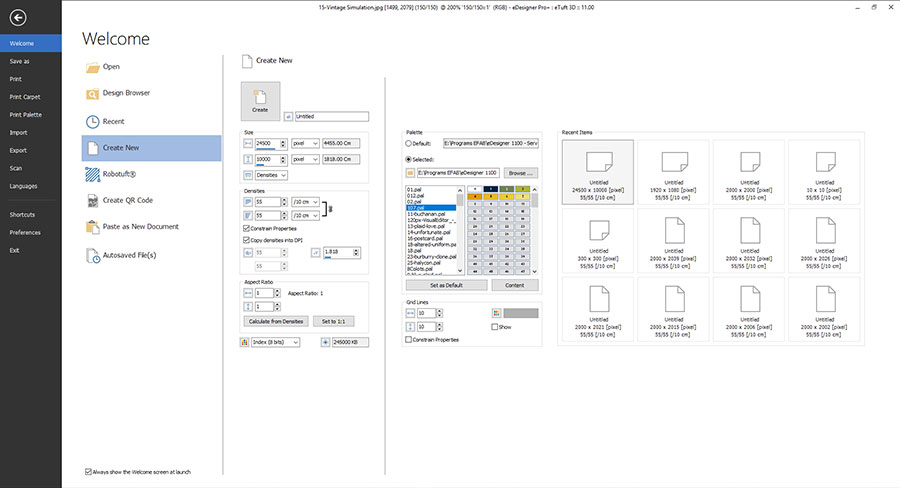 eDesigner version 11 : Recent items in "New" dialog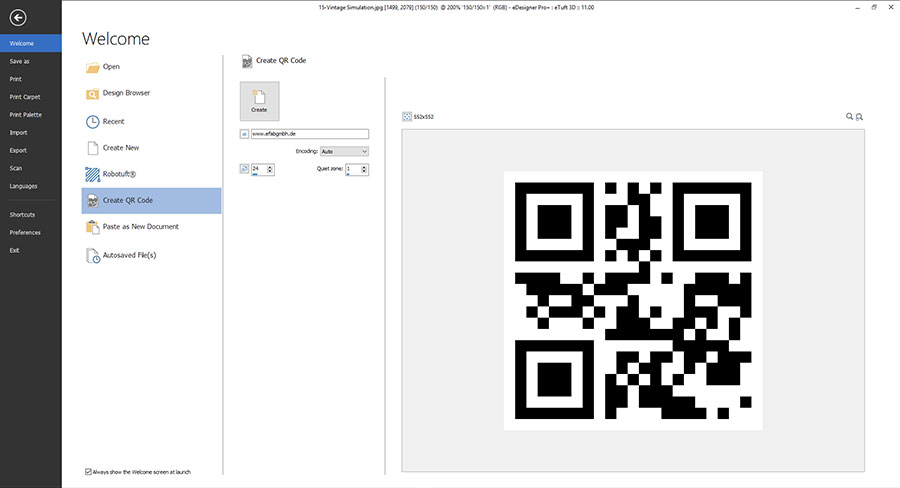 eDesigner version 11 : "QR Code" function
"Import" function in Print dialog for direct opening of print layout as a design in eDesigner
"Additional Information" as text in Footer of print layout
eDesigner version 11 : Print function
Enhancements in Color Books supporting ARS color references: ARS1400 Wool, ARS1200 Wool, ARS600 Wool, ARS1000 Viscose, ARS700 Viscose and ARS320 Viscose
Enhancements in printing Color Books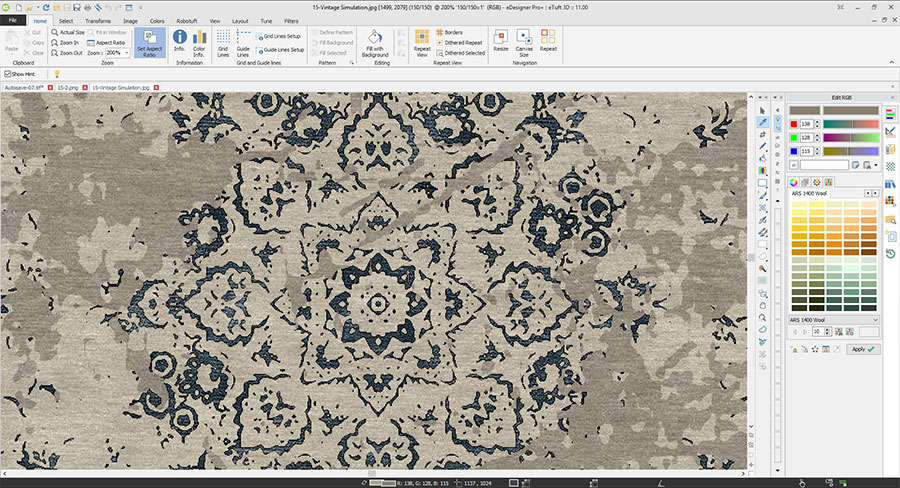 eDesigner version 11 : General overview of Color Books with ARS color references

eDesigner version 11 : Tool Properties
Enhancements in Drawing tools:

Handy Tool Properties with easier access on the bottom of ribbon bars
Objective Geometric drawing tools with easy sizing, aligning, positioning (Rectangle, Circle, Ellipse and Oval)
Rich tool tips with short tutorial videos
Fill tool with new "Border fill" and merged with "Pattern fill"
Airbrush tool merged with "Pattern Airbrush"
Editable Polygon tool
Objective Replicate tool with easy sizing, aligning and positioning
Objective Crop tool with easy sizing, aligning and positioning
Pen tool merged with Pattern Pen
Richer hints in Measure and Drip tools

Cross Hairline Cursor
Enhancement in using selected area in Repeat View mode
"Process as RGB" and shortcut to calculator in Resize function
Handy shortcuts for "Remap Color Indexes" and "Change Color Resolution" in Palette
Enhancements in Design Browser
New features and enhancements in Robotuft add-on: (Robotuft only)

New offsetting engine, faster more accurate with edge options (Sharp or Round)
Faster filling
Enhanced Production Report layouts
Please contact us to see how you can update or upgrade your existing eDesigner software.