MONITORING SOFTWARE FOR TUFTING ROBOTS
Production planning and pricing based on
valid analysis and performance figures

MONITORING SOFTWARE FOR TUFTING ROBOTS
Production planning and pricing based on
valid analysis and performance figures
eMonitor (Monitoring Software for Tufting Robots) is an advanced software solution which enables managers to monitor production statistics for eTuft machines.
This software not only provides the required data at real time, but also generates technical reports for further analysis and future actions:
Recording all machine activities
Analyzing stop times
Personnel activities and their log-ins to the robots
Production reports
Monitoring status of each machine
Tracking machines' statuses within a period of time
Calculating production efficiency
and …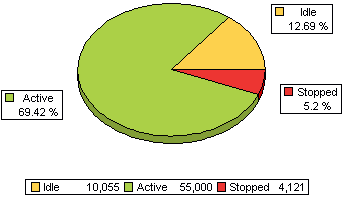 Plant View
Plant View is a real time analysis tool in eMonitor. In this color-coded layout of the plant, the robots are pictured in specific colors, each color indicates a certain machine status or alarm condition. So only by viewing the colors you can notify the machine status and take action if needed.
Timeline Report
Timeline Report is the result of an automatic machine activity calculation based on user-defined time intervals. This report lets decision makers monitor their whole production line during certain intervals. They can gain important information about their productivity (machine efficiency etc.) for different collections and designs.
Production planning and pricing can thus be carried out based on valid analysis and performance figures.