CAD SOFTWARE FOR DOBBY WEAVING
Affordable and easy to use solution for woven fabric design
and virtual sampling
CAD SOFTWARE FOR DOBBY WEAVING
Affordable and easy to use solution for woven fabric design and virtual sampling
Realistic fabric simulation
A realistic fabric simulation in real size, using different yarn constructions and yarn types is one of the important features available in eDobby software.
While editing the weaving parameters, you can see the modification on the simulated fabric immediately. By saving the simulated fabric design or printing it in real size, you can reduce the sampling overhead and cut down on sampling costs.
Production Data
eDobby offers a full complement of printed weaving technical specifications. It allows the users to dramatically increase the number of designs that can be processed for manufacturing, not to mention eliminating calculation mistakes.
The calculation sheet can include fabric composition, weights required to make the piece, costing information and a even a picture of the fabric for reference purposes. The calculation sheet can be printed or saved as an HTML file ready for attaching to e-mail.
eDobby Features
| | |
| --- | --- |
| | User friendly and easy to use, both for professional and also intermediate users |
| | Ideal solution for customer looking for affordable and easy to use woven design software |
| | Interactive editing of design parts (threading, tie up, peg-plan, warp and weft) |
| | Lifelike simulations |
| | Simultaneous creating and editing of multiple designs |
| | Instant display of yarn modifications in simulation |
| | Change construction without changing the pattern or vice versa |
| | Saving up to 16 different colorways in a single file |
| | Manage unlimited color variations and accurate color blankets |
| | Apply any weave or combination of several weaves to your design from the weave library (approx. 500 weaves) |
| | Work in actual scale on any monitor |
| | Automatic calculation of threading and peg-plan information |
| | Print multiple blankets and colorways |
| | Yarn database for storage of yarn constructions |
| | Selection of the following yarn textures: Mouline, Melange, Twist and Slub |
| | Capability to change twists, color and thickness of yarns |
| | Printed results can be used instead of traditional samples |
| | Export technical information for production |
| | Windows 10, 8.1 and 7 compatible |
Just in a few steps
1. Define colors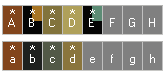 2. Define warp and weft pattern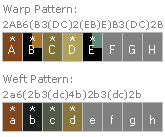 3. Get the result in Simple mode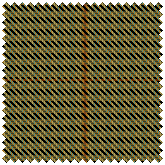 4. Define yarns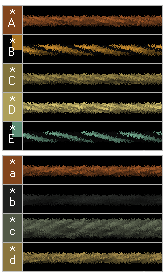 5. Get the simulated design