SAMPLE SHEARING MACHINE
Compact and flexible shearing machine

SAMPLE SHEARING MACHINE
Compact and flexible shearing machine
eShear Mini (Sample Shearing Machine) is a high quality machine designed for shearing tufted carpets and artificial grass samples. It is an ideal combination with eSampler (Sample tufting Machine).
The shearing head can move in two direction thanks to telescopic guides mounted on both side of table.
It is available with different sizes (from 50 up to 160 cm) with optional vacuum unit to hold down the samples.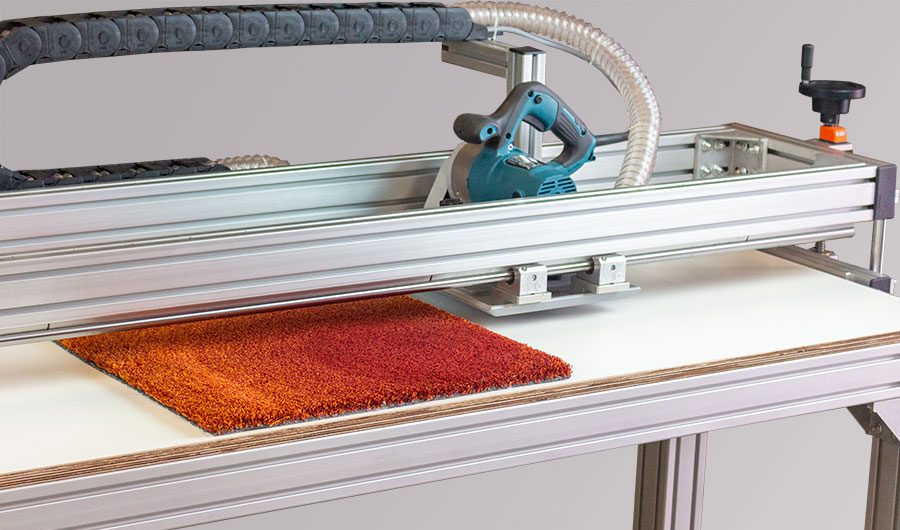 Compact and flexible machine
eShear Mini is a compact and flexible shearing machine for shearing artificial grass or tufted carpet samples as well as bathroom carpets or carpet tiles in a quick and easy way. The shearing depth can be adjusted with 0.1 mm accuracy.
eShear Mini Features
| | |
| --- | --- |
| | Coming in different active shearing width (50 – 160 cm) |
| | Adjustable shearing depth with 0.1mm accuracy |
| | Equipped with 12cm shearing blade |
| | Vacuum system to hold down samples (option) |
| | Rigid and accurate structure |
| | Easy to operate |