The Robotuft Add-on of eDesigner is developed to increase the speed of designing as well as the accuracy and productivity of hand-tuft robots.
Rug designers are free to prepare pixel-based designs which can then be converted to vector-based formats for robotic production. Vector and raster designs can be imported easily, and even digital images can be used: Color reduction functions and various drawing tools make it quick and easy to prepare a design.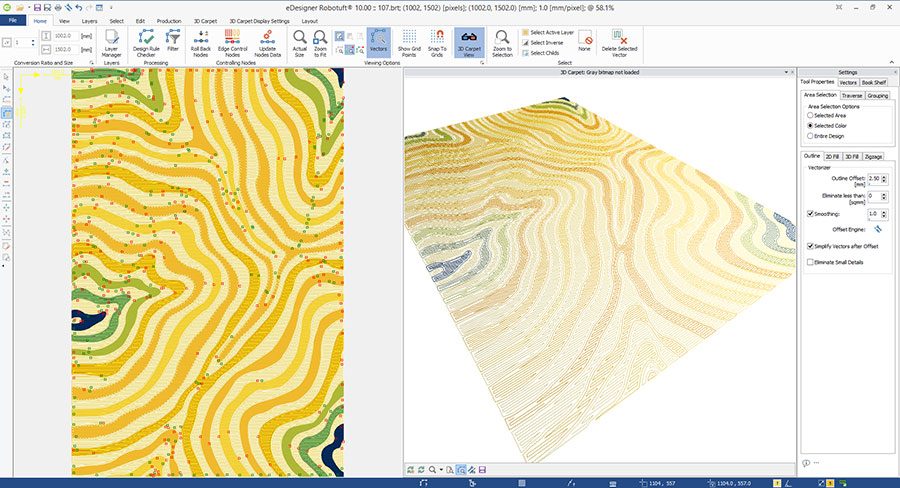 Robotuft Add-on
All the difficulties for hand-tuft carpet design creation are eliminated and variety comes to your production.
Converting raster design into vectors and simulating it before production
Accompanied with useful and handy functions, this revolutionary raster to vector conversion solution enables designers to create various designs for robotic tufting.
With the unique 3D Plug-in, 3D effects can be designed which are tufted easily on the eTuft robot with various pile heights.
3D Carpet Add-on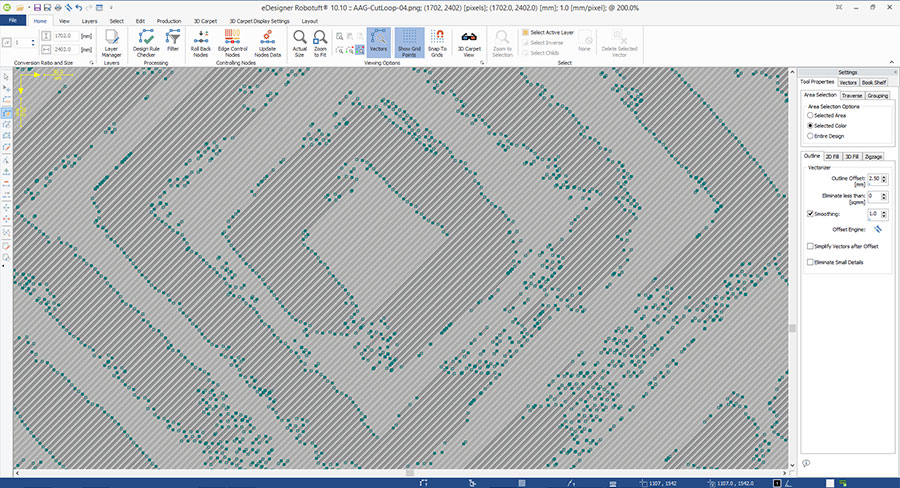 Smart Cut/Loop Add-on
The software calculates and optimizes the paths for robotic moves, thus, speeding the tufting process significantly. Consequently, production time and its cost will sink.
Robotuft Add-on Features
Apart from its many designing tools and functions, eDesigner also optimizes the performance of the eTuft robot.
| | |
| --- | --- |
| | Vectorizer tool with smoothing function (converting raster to vector designs) |
| | 3D Carpet designing Add-on |
| | Smart Cut/Loop Add-on |
| | Path Optimizer to optimize up to 60% of un-tufted moves |
|   | Vector editing tools: Move, Join, Split, Reverse Direction, Extend, Fill, Offset, Measure, Pen, etc. |
| | Various filling algorithms: Zigzag in different angles, Offset Polygon and Spiral for optimized production |
| | Filtering functions for optimized production |
| | Yarn and material consumption calculations |
| | Production time calculation |
| | Preview of production process |
| | Import and Export to major Raster and Vector files: DXF, DWG, PLT, SVG, HIT, BMP, PCX, GIF, TIF, PNG etc. |
| | Export to machine coded files |
| | View raster and vector layers of the same design file at one place, with many viewing options |
| | Color-coded vectors with respect to the original design files |
| | Adding or replacing vector management rules |
| | Windows 10, 8.1, 7, Vista and XP compatible (32-bit and 64-bit) |
For more information, please refer to our eDesigner web pages.