PNEUMATIC HAND-TUFTING GUN
Heavy duty and long life hand-tufting gun

PNEUMATIC HAND-TUFTING GUN
Heavy duty and long life hand-tufting gun
eGun (Pneumatic Hand-tufting Gun) is a pneumatic tufting gun that can change between cut and loop easily in a few seconds.
Its guillotine cutting principle is perfect for a wide range of yarns including Wool, Viscose, Polyester, Fancy yarns, Nylon, Linen, Polypropylene, Cotton or their blends.
The heavy duty and long life eGun needs only low maintenance. Thanks to its guillotine cutting principle, the cheap and long-life blades can be sharpened by yourself several times easily.
Three models available for different yarns and pile heights.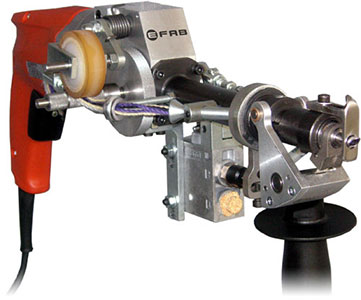 EG06 and EG06s (for short pile heights)
Needle diameter: Ø6mm
Cut pile height: 16–33mm or 13–17mm in EG06s
Loop pile height: 12-50mm or 8-13mm in EG06s
Speed: 2000 stitches per minute
Weight: 3.5 Kg
Air pressure: 7~8bar, 200 lit/min
Power consumption: 500 Watt
EG11 for thick or felted yarns
Needle diameter: Ø8mm or Ø11mm
Cut pile height: 33–75mm (U-tuft or J-tuft)
Loop pile height: 25-50mm
Speed: 1500 stitches per minute
Weight: 6 Kg
Air pressure: 8bar, 300 lit/min
Power consumption: 500 Watt
Features
| | |
| --- | --- |
| | Guillotine cutting principle |
| | Easy cut-loop changeover in a few seconds |
| | Cheap and durable blades |
| | Long life and heavy duty |
|   | Low maintenance |